Whether you're a first-time organiser or serial event-planner, coordinating a charity event can often be overwhelming. You want to create a fun and memorable experience for your guests. And, educate them about your cause. And encouraging them to dig deep. From the basics, to organising the more intricate details of the event, there's lots to get sorted, often in a short space of time. Not sure where to begin? Here we've got five suggestions to get your Exeter charity event off to a flying start …
1. Plan, plan, plan
The power of a detailed plan should never be underestimated, especially when it comes to organising a charity event. Here are some of the key things to think about when constructing your plan:
Goals
Before putting pen to paper, think about what you want to achieve through your event. For instance, are you trying to raise awareness of your cause amongst the community, collect a target amount of donations, or promote the launch of a charitable initiative? Having a clear goal in place from the start will make organising your event much easier and decision-making much simpler. Your choice of venue has the potential to make or break your event. It goes without saying that you should research and visit a range of locations so you can be sure you're making an informed decision. Consider the following questions when visiting each potential location:
Is the venue easy to get to with clear signposts?

Is there disabled access?

What parking facilities are there?
How many people can the venue accommodate?
Is there a staff team to help with the flow of event?
Budgeting + Sponsorship
Think very carefully about your budget, making sure to set a realistic figure from the start. Make sure you're fully aware of the costs of holding an event compared to the potential funds you could raise. Keeping this in mind will help you minimise expenditure and maximise fundraising. Securing sponsorship is a great chance to boost a charity event and cement links with local businesses. Branch out to any contacts in the Exeter area who show an interest in the event. Find out if they would be willing to contribute, whether this be in the form of cash, raffle prizes or entertainment packages.
2. Assess available resources
Are you going to take a DIY approach when it comes to your event, or will you hire industry professionals to help? Of course, if you're on a tight budget and have enough resources amongst colleagues, family and friends, then doing things yourself can save money. Do consider the experience that outsourced experts will have though, including a network of connections that could come in very useful for further enhancing your event.
These are just some of the points to consider when trying to find your perfect venue. Fortunately, Exeter boasts an abundance of venues offering space for charity events. For large-scale fundraisers there's the award-winning Sandy Park, which has a range of modern, spacious and versatile rooms that can be transformed to suit your needs. Or Reed Hall, the grand University building known for its variety of rooms in all shapes and sizes. And if you're looking for a location in the heart of the city, consider Exeter Phoenix, a vibrant, multi-purpose venue offering studio space, galleries and even an auditorium for hire.
3. Choose a caterer
Feeding your guests is a key part of any event, with the potential to heavily influence how people remember your fundraiser. Make sure you allow yourself sufficient time to fully explore different catering options before making a final decision. When it comes to event caterers in Exeter, you really are spoilt for choice. Whether you're looking for an informal food truck to enhance a fun and laid back atmosphere, or a more formal sit-down meal with waiter service, we're sure you'll be able to find a catering service that suits your needs. Here are some of our top picks:
Astridges Catering
Family business Astridges provides first-class catering services for all sorts of events in and around Exeter. Their commitment to fresh, local produce is evident with just a quick scan of their menus, as is their passion for creating food that looks good and tastes even better. Whether it's canapés, afternoon tea or even a Devon hog roast you're after, Astridges can certainly cater for your needs.
La Cantina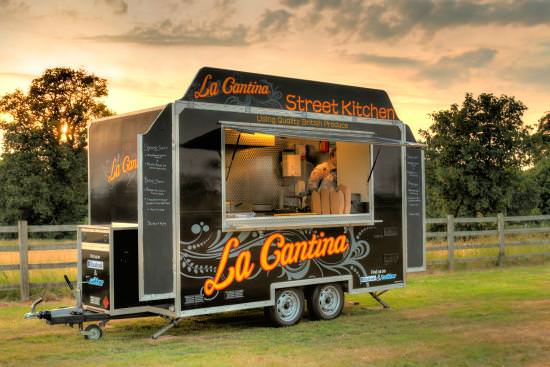 For a fun family event, look no further than the La Cantina food truck, famous across the South West for its street style, restaurant quality food, including gourmet burgers and fresh local seafood. They love catering for charity events, and will provide a custom menu designed by multi award winning Head Chef Tim Golder and his team.
Icicle Tricycle
This classic 1920s style ice cream cart will be a real crowd pleaser at your charity event – perfect for adults and children alike. Not only do Icicle Tricycle provide a choice of premium Devon ice creams and sorbets, they will decorate the cart to your specification so it fits perfectly with the theme of your event. Plus, all charity events will receive a percentage of their takings for the day! Visit their website to see full terms and conditions.
4. Hire a photographer for your charity event
You'll want to capture lasting memories of your charity event with a store of photographs for press and promotional purposes. Or simply to share with your guests and look back on with pride. This is where our event photography service comes in. We have worked with a complete range of clients and briefs, and are trusted for our professional, tailored approach, as well as our quick image turn-around. We can provide a range of high-resolution, ready-to-use images in as little as 24 hours. There's even the option of on-site printing with our state-of-the-art thermal imaging cameras.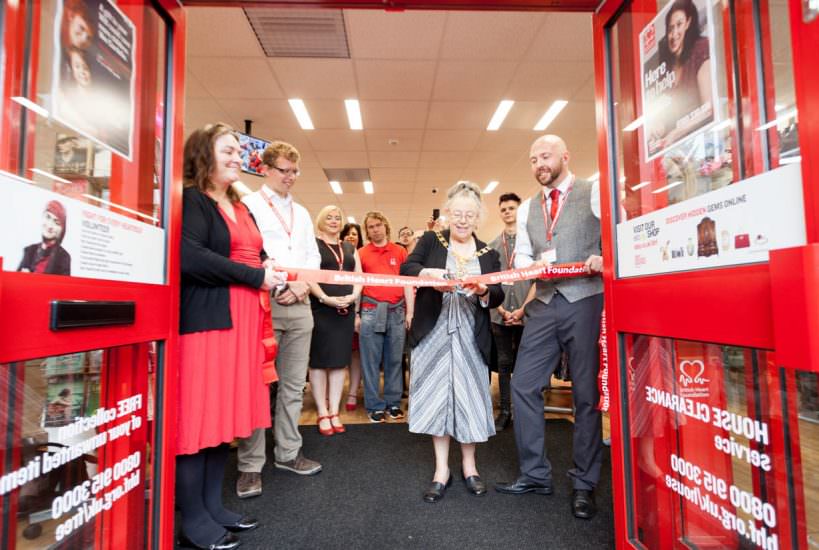 For a recent example of our event photography work, check out our gallery from the British Heart Foundation store opening in Exeter. We were asked to showcase the premises, products and volunteer staff for PR purposes. The collection of high-quality images we produced successfully highlights all these aspects. They seemed to convey the friendly, community feel of the event.
We're always interested in hearing about local charity initiatives in and around Exeter, so please do contact us for more information and a free initial consultation.
5. Line up some entertainment
It's time to think about how you're going to entertain your guests. The more fun they have, the more likely they are to dig deep for your cause. Also, the better the entertainment on offer, the more interest you'll attract to your event in the first place.
Think about the types of people you'll be inviting. If it's a fun family event, why not consider hiring a magician, for instance? Magical Moon is an Exeter-based magician specialising in close-up magic – a great way of getting people involved at events. And for some fun props to entertain the whole family, consider local company The Prop Factory who supply everything from fairground games to doughnut walls!
For a more formal charity event, a dinner or ball, consider a band to keep your guests entertained, or even some casino tables. Exeter-based entertainment company Heavens Group offer a number of packages to make your event an enjoyable experience for every guest. Visit their website to see how you can add that wow factor to your own charity event.
Hopefully these five suggestions have provided some inspiration for planning your Exeter charity event, helping you on your way to organising a successful fundraiser. To find out more about the services we offer and to see how we can help capture ever-lasting memories of your event, visit our website.