Recently I was asked to create some website photography for Devon-based company, First Care Ambulance. With a great brief from the client and some extensive research on my part we shot on location in Exeter to produce some quality website photography that reflected the organisation's passion for community healthcare.
The client: First Care Ambulance
First Care Ambulance is a leading medical transport provider, based in the South West of England. Their team of health professionals work closely with local hospitals and NHS providers to provide non-emergency patient transport that integrates with the local healthcare community. As well as patient transport, their services include organ transport, event medical services, and first aid training.
First Care Ambulance has been operating for over 20 years, but recently the organisation underwent rapid expansion. In the last 2 years they grew from operating 7 ambulances to operating with a fleet of over 70 ambulances and specialist medical vehicles.
With their range of new ambulances and staff, as well as new contracts and additional services on offer, First Care Ambulance was unrecognisable. Their old website did not reflect the full range of equipment and services the organisation offered. Nor did it provide anaccurate reflection of First Care Ambulance's commitment to professionalism and high quality service.
They worked with web design company, Swanky Apple to build their ideas into a fully-fledged website that accurately portrays First Care Ambulance's vision and values.
And that's where I come in…
The Brief: Website photography
First Care Ambulance needed some fresh website photography for their new website. With such a large website and so many services on offer they needed a lot of images to build-out a visual picture of their flourishing company. Rather than purchasing a cartload of stock library images, they decided to produce their own.
They got in touch with me, Spencer Cobby Commercial Photography, to create a 360-degree, styled photographic audit of all the vehicles and services that they offer.
I sat down with Andrew Pooley of First Care Ambulance and we talked through the brief. Rather than hiring professional models, Andrew wanted the images to feature his own staff. After all, they already know how to operate the ambulance equipment and they're the individuals who patrons of First Care Ambulance services will encounter.
Andrew wanted the website photography to convey real personalities, to communicate the warmth and depth of caring that his staff have for their patrons. Essentially, the images would present the real faces of First Care Ambulance. At the same time, the website photography needed to showcase the equipment and services available as well as to demonstrate the organisation's extensive experience and professionalism in this specialist industry.
Research
With a good knowledge of the client's priorities and vision, I approached this expansive brief with a lot of research. Non-emergency patient transport is a niche industry with very precise specialisms so I wanted to gain a greater understanding of how the industry presents itself.
I took a look at current stock images available on Getty Images and ran a Google image search for the following keyword terms:
– Ambulance service

– Ambulance

– Paramedic

– Rescue Services Occupation

– NHS

– Service

– Healthcare And Medicine

– Urgency
I took a selection of images that encapsulated some of the values and priorities that First Care Ambulance represents. I then analysed these images to establish exactly what it was about them that communicated the messages First Care Ambulance wanted to convey. Here are a few examples:
1. Friendly – this shot uses the smiling female face of an ambulance driver to tell the story of a warm and welcoming company and staff.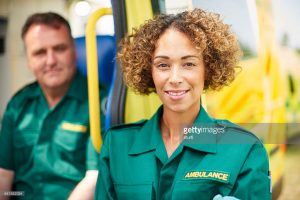 2.Experienced – this image tell the story of years of quality and dedicated service
3. Professional – this shot tells the story of preparation and diligence with a qualified staff who know what they're doing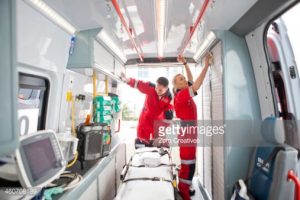 4. Care – This image makes it personal. The nurse holding the hand of a smiling patient tells a story of a supportive and caring service
Armed with this research, I started to formulate a plan of how we were going to create First Care Ambulance's website photography at their base in Exeter. Alongside this, Andrew gave me a specific plan to work to that archived which images were required for each part of the website.
Shooting the website photography in Exeter and Devon

With such a large website and so many images to capture, I made a plan to approach the project in two stages, based on location:
Stage One – Capture archive website photography at First Care Ambulance's head office in Exeter
Stage Two – Capture archive website photography of staff working on location in Devon
The best way to capture the every-day operations of service-based companies, like First Care Ambulance, is to photograph key elements (the person,the location, the activities etc.) and then to ask the subjects to conduct their normal tasks whilst shooting around the subject. That's how I captured the image below.
I asked two ambulance staff to assist a gentleman on to one of their ambulances using his electric wheelchair. Whilst these images were partly staged, this method enabled the staff to conduct themselves as they normally would at work. I just threw in the occasional suggestion to move left or right or to look up or down. This approach provides a real sense of authenticity that is absolutely necessary when photographing a sensitive subject like helping an elderly man onto an ambulance.
I photographed the scenario a number of times in order to get different angles, lighting and expressions on the faces of the staff. This approach means I shoot more, but it also means there is a greater variety of images. When it comes to editing (and ultimately publishing the photographs to the website), the wealth of options when it comes to space, scale, and depth within the images is very useful. It also means the client has more images to choose from, particularly if they plan to use them elsewhere on brochures, flyers or other media.
The following images are examples of this process: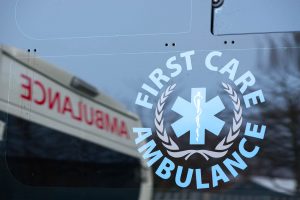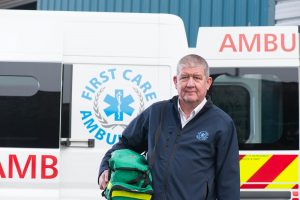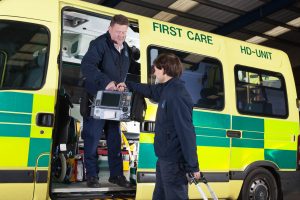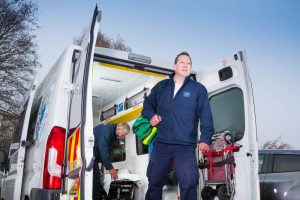 Here is how the website looks like with the images added.