In the throes of launching a business? Don't know where to start when it comes to your website photography? Photographs are sometimes relegated to the bottom of the to-do list when building a website for a new business. But with the power to make or break your brand, photographs not to be underestimated. Your website photography will help tell the story of your brand. It will evoke emotional connections with your audience, not to mention help with your brand awareness and SEO. You'll need to take time to understand your audience and the market in general, and really tailor the style and content of your photography to appeal to current trends.
We've rounded up the top five things you need to consider before you get started with your website photography …
Understand your target audience
If you're building a business from the beginning, one of the most important things you need to do is define and understand your target audience. Aside from the basic demographics to consider – age, gender, occupation and location- it pays to consider the lifestyles your target audience lead. What does your typical customer enjoy doing? What are their values? What motivates them?
Try to establish an empathy with your audience and understand exactly why they need your product or service. What problem of theirs does it solve? Also, what does a typical customer expect to see when looking at your website? What type of photos will they connect with? With a clear and detailed vision of who your target audience is and an understanding of how your business can help them, you can begin to tailor your website and its photography content to suit their specific needs.
For a useful guide on defining your target audience, take a look at this handy QuickSprout chapter.
Using people in your website photography
People are an ever-popular photo subject on websites. As humans, we tend to look for other humans in photographs and instantly build an emotional connection with them, which in turn drives buying behaviour. In fact, research has shown that the presence of human photos on a website landing page can increase conversion rates by having a positive impact on a visitor's first impression of trustworthiness. Studies also suggest that human photos with a focus on the face have a much better impact on conversion rates. The emotional connection produced is often much stronger.
If you're opting for photos of people, think about whether you want models or your real staff members to appear in your website photos. If you're publishing images of staff online, you'll need to get their informed consent to do so (check out our recent blog post on the new GDPR regulations for more information).
When people visit your new website, they will want to get to know you and find out if your business aligns with their own values. One of the most effective ways to humanise your brand and help potential customers get to know your business is to show them actual photos of your team.
Consider whether lifestyle portraits or formal headshots will best convey your brand story. For some inspiration, take a look at these relaxed and friendly lifestyle portraits we shot for the Devon Partnership NHS Trust recruitment web page, compared with these more formal headshots we produced for Thomas Westcott.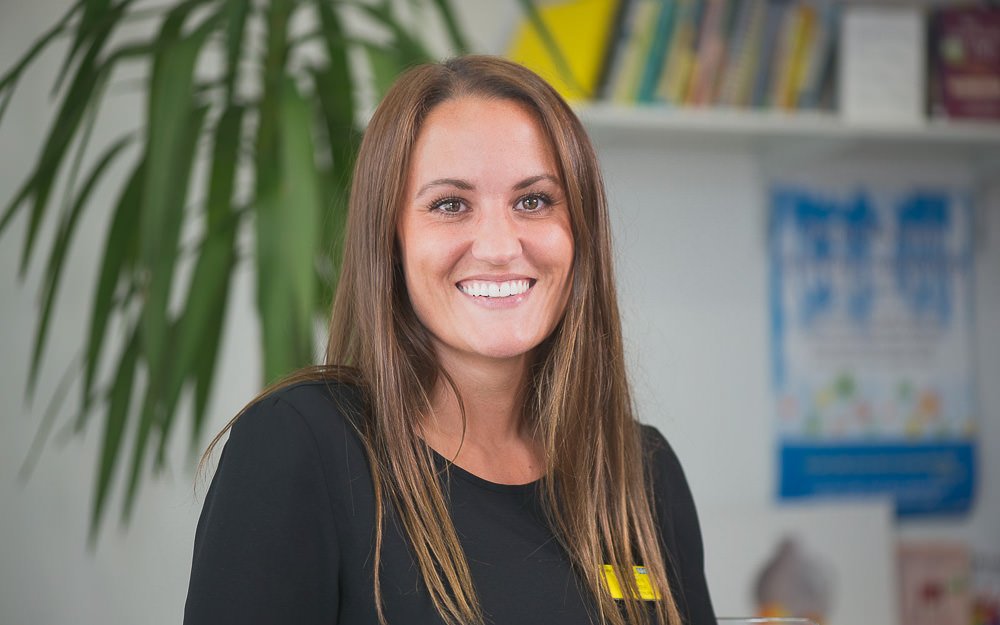 Image: https://jobs.dpt.nhs.uk/
Keep photos consistent with your brand
Clarity and consistency are simply key when it comes to building a memorable and respected brand. If your website photography is inconsistent, visitors to your site may find it difficult to remember or recognise your brand, which can hinder your business growth. Here are some tips for branding your images:
Include your logo in the image.

Give all your website photos a theme or design style that fits with your brand's story.

Use your recognised brand colours.

Use consistent typography.
By taking the time to get on top of visual branding, you're engendering stronger connections with your target audience, making your brand more recognisable. The chances of your content being remembered is also increased. In turn, this drives business referral rates and increases growth. Of course, having a consistent set of website photos provides visitors with a professional, credible image of your business and increases consumer trust.
Research visual trends
You'll want your new website to really stand out from those of your competitors, especially if you're launching a business in a particularly crowded marketplace. Think about the sorts of visual content that will really speak to your target audience. What can you do with your website photography to make a strong visual impact?
Here are some of the biggest visual trends of 2018 if you're in need of some website photography inspiration:
CONCEPTUAL REALISM
According to Getty Images, attainability and relatability are key when connecting with today's consumer. Authentic, believable lifestyle images are one of the main ways to appeal to customers in 2018. 'Aspirational' scenes no longer resonating.
SPEAKING VOLUMES WITH A SINGLE IMAGE
Following the vast social and political changes of 2017, this year we're witnessing a shift in website photography. It is becoming a little more open, raw and dynamic. We are seeing a rise in powerful, single images designed to make a big statement. Businesses are attempting to appeal to consumers' increasing need for social accountability and ethical fairness,
STATEMENT COLLAGES
2018 has also seen an increase in the statement collage. Combinations of images and illustrations with bold, brave colours are being used to create unique design statements to get a website noticed.
Humanise images but be clear and neat
It's important that you don't forego clean, clear, clutter-free images whilst trying to connect with your audience. Achieving a good balance can be tricky, but is certainly worth investing some time perfecting.
An example of a website with engaging, humanised images that communicate clearly is the aptly named All Clean. We shot these images of real staff cleaning air ducts on a one-day photoshoot at a client's premises. The resulting photographs bring the service that All Clean offers to life, allowing website visitors to visualise their own premises being cleaned by the photographed staff. The images act as storytellers, clearly communicating the service on offer to potential customers. We were careful not to over-complicate or clutter each shot. We wanted the focus of each image to be on the work that was being done by the staff.
Great website photography can be the difference between potential customers purchasing a product or service, or turning to a competitor instead. No matter what you're selling or who you're selling to, website photography is an important asset that you cannot afford to get wrong.
We provide unique, quality website photography that sells your products, services and your staff. We offer individually catered packages to suit all businesses, and guarantee to make your website shine with our unique vision and attention to detail. To find out more about the services we offer, including e-commerce product photography, lifestyle photography and staff headshots, visit our website. And please do contact us if you have any questions about how we can help with the launch of your new business.